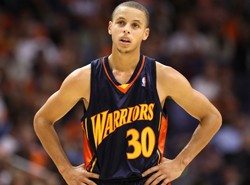 With no Monta Ellis or Corey Magette in the lineup last night, Steph Curry went off. He scored 36 points, collected 10 rebounds, and dropped 16 assists in a 30-point win over the Clippers. That's an absurd stat line even by this rookie class' standards, and it was the first 30-10-10 line from a rookie since Jason Kidd did it in 1995.
You could chalk it up to hot shooting from the Warriors. Or impressively unimpressive defense from the Clippers. Or perhaps the most obvious: the absence of Monta Ellis. In the post-game media scrum, Curry was bombarded with questions regarding the impacts of Ellis' (and Maggette's) absence (via Tim Kawakami of the San Jose Mercury News):
Q: Does a game like this show you maybe what this team needs to do more of when Ellis and Maggette are back?

CURRY: I mean, yeah. They play their style. And you've got to cater to that. But as a team, you can always move the ball, you can always find the open guy. That's just good basketball. I think when we come back on Tuesday, we'll watch film on how we played this game and try to mimic that against the Lakers.

Q: The stats are that you are way better offensively when Monta' s not playing. Any reason you can think of for that?

CURRY: I'm not sure. I mean, he averages… he gets his numbers up. The ball's in his hands a lot, so he needs that … to be productive. So I don't know, when he's out, everybody has to pitch in. There's just that feeling. Even though we had 7 players, everybody's got to work together. It's just that thing, where everybody keys in Monta a lot because they know how great of a player he is. So when he's out, everybody has a chance to make plays.
Curry later made plenty of concessions; he noted Ellis and Corey Maggette as "All-Stars in [his] book" and mentioned that he "[doesn't] really believe that [the Warriors are] a better team without [Ellis]." But throughout the season, Curry has often played the diplomat, even when Ellis was burning bridges.
Both Ellis and Curry want the ball in their hands, and eventually something's got to give. So far, that's been Steph's rookie status giving in to Monta's experience. But if Curry continues to excel as he did last night, it only puts more pressure on Don Nelson to make a change. Given the personnel, the contracts, and the personalities associated with this team, I'm honestly not even sure how much room a stable, sane management staff would have to maneuver…much less whatever you would call the Golden State front office. But Ellis and Curry won't be able to coexist forever, and though this particular Warriors team isn't going anywhere of import anyway, the writing is on the wall.