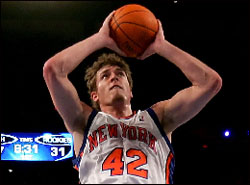 2008's "Redeem Team" took Beijing by storm, and if the newly announced Team USA roster is any indication, 2010-2012 should be no different.
The 2008 Olympics in Beijing were terrific for Team USA in terms of publicity and camaraderie, but the 2010 FIBA World Championships provide just as much of a challenge, if not the glitz and television coverage. The big dogs — Spain, Argentina, et al — will all be in attendance, and if USA basketball rests too much on its laurels, we could be looking at another sub-standard performance (USA came in 3rd in 2006).
Honestly though, based on the roster released today, I don't see how that's possible. There are certainly some top-notch national teams out there, but USA Basketball seems to have abandoned the role player/designated shooter approach and simply opted for the best young talent available.
WHO'S STAYING: Carmelo Anthony, Carlos Boozer, Chris Bosh, Kobe Bryant, Dwight Howard, LeBron James, Chris Paul, Dwyane Wade, Deron Williams, Lamar Odom (member of the full roster in 2008, did not play in Beijing), Amar'e Stoudemire (likewise), Chauncey Billups (ditto), Kevin Durant (same).
WHO'S IN: LaMarcus Aldridge, Rudy Gay, Eric Gordon, Danny Granger, Andre Iguodala, Al Jefferson, David Lee, Brook Lopez, Kevin Love, O.J. Mayo, Kendrick Perkins, Derrick Rose, Gerald Wallace, Russell Westbrook.
WHO'S OUT: Gilbert Arenas, Shane Battier, Bruce Bowen, Elton Brand, Nick Collison, Tyson Chandler, Kirk Hinrich, Antawn Jamison, Joe Johnson, Jason Kidd, Shawn Marion, Brad Miller, Mike Miller, Adam Morrison, Greg Oden, Paul Pierce, J.J. Redick, Luke Ridnour.
Gone are the intangible role player types and the, well, Adam Morrison types. Instead, Jerry Colangelo, Mike Krzyzewski, and company have assembled a roster brimming with versatile talent from top to bottom. It's hard to argue with the group they've assembled, except to say that Rajon Rondo's agent should probably be making some phone calls. A glut of quality point guards is likely what kept him on the outside looking in, and perhaps the same is true for Tyreke Evans.