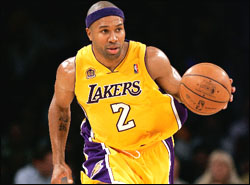 Editor's note: From time to time, Ira Winderman will jump in with longer analysis of some bigger issues. These "Quick Takes" appeared previously as stories on NBCSports.com and will now appear within ProBasketballTalk instead.
There is a ritual in NBA locker rooms when it comes to electing union reps.
That's when the veterans scramble for bathroom breaks, when the league's most outspoken players disappear, when the unsuspecting find out they have been elected.
Take the Rockets, for example.
Second-year forward Joey Dorsey, hardly a player well versed with the labor acrimony that has already gotten the league into heated discussions about a collective-bargaining agreement that won't take effect until 2011-12.
Freshly back from a stint in the D-League, Dorsey was informed Tuesday in Miami that he has been elected his team's union representative.
Why?
Apparently because his new teammates thought he was going to Dallas, anyway, for the D-League All-Star Game. So why not just send him to the union meeting, as well. That works, except that because he got called up to the NBA, he can't play in the D-League game. Now he just heads to Dallas for the meeting.
He is not the only interesting choice.
The Heat's representative? No, not high-profile Dwyane Wade or high-salaried Jermaine O'Neal, but rather where-have-you-gone James Jones.
In fact, the current union board, the one charged with crafting the new labor agreement in concert with David Stern's cutthroat band of henchmen, is loaded with players either currently working on the minimum scale or headed there, players such as Adonal Foyle, Theo Ratliff, Mo Evans, Keyon Dooling and Etan Thomas.
Even union president Derek Fisher is at a stage where his $5 million salary this season could turn into something closer to the minimum next summer, when he stands as a free agent.
For all the bravado coming out of the union about fighting Stern at every turn, this is an executive board that comes from a far lower rent district than one would expect at this negotiating table.
No Kobe. No LeBron. No Shaq. None of the players who could find their knees bashed in the process.
Influential agents certainly will put pressure on Executive Director Billy Hunter to fight the good fight.
But if it is to the point that Fisher is union president, Foyle the top vice president and Jones the third-ranking union leader, then perhaps that apathy could be parlayed into the ultimate comeuppance for the disinterested high end.
For example, what if Stern, to all the draconian measures he already has forwarded to the union, says, "You know what guys, here's one more: We also plan to raise the minimum salary for everyone to $1.5 million or even $2 million. Everyone would make at least that. Guaranteed."
That is more that Foyle and Ratliff currently are earning, likely more than Fisher, Dooling, Evans and Jones will earn on their next deals.
It would serve the majority. Provide an upgrade. In a league where careers are fleeting, the loss of any paycheck to a lockout would be money never regained.
If the players with the most at stake elect to send their D-League to the bargaining table, can't be bothered enough to make the effort, majority rule could lead to a rude awakening.
It is the rare case when the end of the bench could determine the game's outcome.