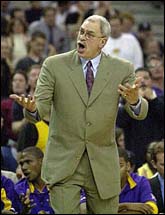 Interesting premise out of Bill "one sentence paragraph" Plaschke in the Los Angeles Times today — that Los Angeles likes, but doesn't love, Phil Jackson. Not the way they loved Pat Riley or Tommy Lasorda.
He may have mastered Zen, but he has not mastered Los Angeles.

There will be no statue of him outside Staples Center. There might not ever be a night honoring his achievements. There will be very little fanfare when he retires, just as there was very little outcry when he left the team several years ago.

He is not Tom Lasorda. He is not Pete Carroll. He is not Mike Scioscia. He is not the sort of folksy personality that this town expects of its high-profile coaches.

More than anything else, he is not Pat Riley.
More than anything, Jackson is not an easy interview of simplistic personality that makes a columnist's job easier. He is not bombastic on the sidelines — fans like that because we would want to yell at the players when they screw up and a coach doing that is cathartic for us. We like it when Stan Van Gundy gets sarcastic with the refs and his players.
Phil Jackson is loved in Los Angeles. There may not be the public displays of affection that Carroll and Riley got, but that is because Jackson doesn't seek them out like those two (with their massive egos). Or Riley for that matter.
That doesn't mean Jackson isn't loved. And the reason there was not a crazy outcry over letting Jackson walk from the Lakers the first time was that Shaq had just been traded and Lakers fans were focused on that as anger issue number one.
Phil Jackson is not going to have a statue outside Staples center. But there is no statue of Lasorda outside Dodger Stadium, not one of Carroll outside the Coliseum (it would have been trashed last month anyway) and no statue of Riley anywhere in the city. You don't build statues to coaches.
And for the record, Plaschke, the very definition of Zen is that you can never truly master it.