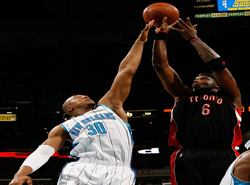 With all the talk of NBA team owners playing hardball and the players doing their best Lee Corso "not so fast my friend" things have started to look like a lockout in the fall of 2011 is moving beyond possible to likely.
Early negotiations always sort of look like that — you ask for the moon in your first proposal, knowing you can give half of it back and still make progress. So the owners ask for 55% of Basketball Related Income (the players have been getting about 57% the last few years) knowing that if you meet at 50/50 you made progress.
But the talk has only been about the owners and players perspectives, and their first talks this weekend. The Heat's Jermaine O'Neal has stepped forward and injected a little sanity into the discussion. (I know, we were as surprised as anybody.)
"Both parties have to understand this goes beyond the business of basketball to the sensitivity of our general public that supports how it looks," O'Neal said of risking turning off the public with another lockout. "A lot of people live their lives through sports and that's their outlet, and you want to continue to be the people's outlet during the tough (economic) times.

"You don't want to be bickering about issues and put that out to the general public making it look everybody is greedy and everybody wants more money when the rest of the world is struggling economically … You want to find the medium … It's a billion-dollar industry and everybody wants to be successful and … share a piece of the pie. Hopefully, we can do that."
All that money the owners want more of? That's your money. My money. The fans money. There are basketball junkies who will be there no matter what after a strike, but ask baseball how easy it was to recover from their big strike (it took steroid-fueled home run binges). Ask the NHL how their lockout — which their owners largely won –has worked for revenue and television viewer ship.
How you split up Basketball Related Income is still dependent on their being Basketball Related Income. A strike, in the middle of a recession (or even just after it) will make that pie the players and owners are splitting up a lot smaller for years and years to come.