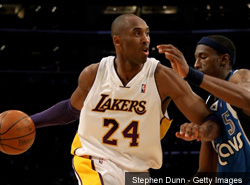 What makes Kobe Bryant legendary is not the skill but the will.
Certainly, he's gifted athletically. But a number of players come into the NBA with gifts, and most use a fraction of what God gave them and have a nice career. Not Kobe, he outworks everybody — he's the first in the gym, he watches more game tape than some coaches, he works on his game hard in the off-season. Winning matters. Being the best matters. Nothing gets in the way.
He also in tremendous condition. He takes care of his body like no other. But at age 31, with plenty of miles on his legs, Kobe needs more rest than he is willing to allow himself. Sometimes, even the best gladiators need to pace themselves.
Bryant is not 23 anymore — he is 31 and has played 43,387 minutes over the course of 14 NBA seasons (counting playoffs). That's 2,000 minutes more than Larry Bird before injuries ended his career. It's more than Magic Johnson. It's basically right about the career ending number for many of the game's legends.
Kobe can — and should — keep going. He's playing at the highest level of his career. But his body does not bounce back like it used to. Sprained ankles after Lamar Odom steps on your foot take a little longer before you're running full speed. Sore backs don't bounce back. Fractured fingers take a little longer before the splints can come off. And all of that is harder to play through.
Bryant knows all this, intellectually. But what makes Kobe fascinating is he is like the lead character in a classic Greek tragedy — his greatest strength is his greatest weakness. The will and drive that made him the best player of a generation is the same thing that makes it nearly impossible for him to take his foot off the gas now.
Lakers trainer Gary Vitti said he would like Kobe to sit out through the All-Star Game. Phil Jackson knows better than to tell Kobe what to do, so he is playing the "whatever Kobe wants to do, he can do" card.
Bryant said he wants to play Wednesday in Utah, but that is a game-time decision. Same with the All-Star Game. "I'm not clairvoyant" was his response when asked if he would play.
The Lakers are not better without Kobe, but the last two games (wins over Portland and San Antonio) show they can survive just fine for a little bit. Kobe knows if he can go, but his teammates will be fine if he takes a short break, so he can be ready for the final push of the season and into the playoffs.
Bryant knows all this, intellectually. But will the drive that made him push his body to be one of the all time greats allow him to give his body the rest it needs as he ages? We will have to stay tuned to see how that play ends.