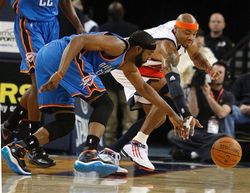 Samson had his hair. King Arthur had Excalibur. Rambo had… Stallone's accent.
James Harden has his headband.
Nine games ago the Arizona State rookie switched to wearing a headband during Oklahoma City Thunder games, and Royce Young at Daily Thunder noticed a difference. So he broke down the numbers.
As we see, Harden turns into a sharpshooter when wearing the sweat-catcher. He jumps 17 percent from the free throw line and 7.6 percent from 3. He also goes up 1.2 percent from the field…

Consider: He started wearing the headband in January. In games he wore it in January (seven games), he averaged 11.3 ppg, 1.6 apg, 4.3 rpg, was 37.5 percent from the field and 46.1 percent from 3. In games in January he didn't (eight games), he averaged 9.1 ppg, 1.8 apg, 2.2 rpg and shot 38.7 percent from the floor and 40 percent from 3. So the headband proved worthy last month.
To the math major reading this saying, "but it's a small sample size…" stop it. We don't want to hear it. It's all about the headband. Harden must continue to wear it. End of story.