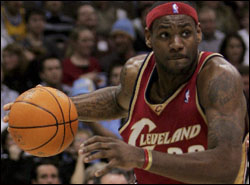 Cleveland is one of those teams that pops up in trade rumors — they might like to add Antwan Jamison, or another player for the stretch. Fans in Cleveland want that insurance, they thought they were Finals bound last year until they ran into the Dwight and Hedo show.
However, in an interview on ESPN 850 WKNR in Cleveland, Cavaliers General Manager Danny Ferry said he isn't desperate to make a move because this team can win as is.
"No matter what were gonna have to be healthy and no matter what were gonna have to play with a good rhythm. But if we can do those two things we have I think as good of a chance as anyone. We have a good versatility to our roster that we haven't had and LeBron is playing better basketball than he ever has… As far as the trade things, today I sit here and say that I would be surprised if something happened, but that may change over the next two weeks. Maybe we do something and maybe we don't. I do like our group of guys right now. I like the way we're playing and I like the rhythm that we have as a team. If we don't do anything, I do think we have a chance to win the whole thing."
Best record in the NBA. Eleven game winning streak. Shaq playing better than many expected. Yes, pretty safe to say they stand a good chance to win it all.