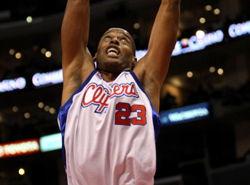 The Clippers are all but officially out of the playoffs, and have already changed coaches. Every NBA fan knows what that means: the vultures are circling around the Clippers' productive veterans.
According to CBSSports.com's Ken Berger, Marcus Camby may or may not be on the block. Camby has been playing well for the Clippers, averaging 12 rebounds and 2 blocks per game while providing solid interior defense. With Chris Kaman playing at a high level and Blake Griffin hopefully coming back healthy next season, the Clippers will likely let Camby go after his contract expires at the end of this season.
The Knicks and Nuggets are reportedly interested in Camby's services, but neither would be able to offer the Clippers much. The Clippers are reportedly looking for a quality young player or large expiring contract for Camby. The Knicks could save the Clippers some money by offering up the expiring contract of Al Harrrington or Cuttino Mobley, but have little young talent. The Nuggets could offer a package of J.R. Smith and Renaldo Balkman for Camby, but both have long-term deals and questionable long-term value. Furthermore, it may be in the Nuggets' best interest to stay patient with Smith, who has been mired in a shooting slump but was an important part of their playoff run last season. 
Camby could help a contending team get over the hump, but the chances look slim that a contender will be able to persuade GM Mike Dunleavy to let go of Camby during his walk year.