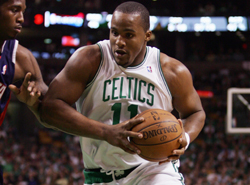 Finding a good deal for Ray Allen is going to be hard — nobody wants to give equal value for a fading, aging star — but the Celtics may have some minor deals up their sleeves.
According to ESPN's Chris Broussard, the Celtics and Bobcats have been talking about trading forward Glen  "Big Baby" Davis for point guard DJ Augustin. The Bobcats need some size inside, and Davis certainly brings that. Augustin has struggled this year, shooting the ball just 37%, which has landed him in Larry Brown's dog house. Not that it's very hard for a guard to wind up there, someone could put together a sad commercial with Sarah McLachlan music about how Brown treats guards.
Of course, no trade is simple — Davis just signed a new deal, and as such is a "Base Year Compensation" player in the complex world of the Collective Bargaining Agreement. What it means in simple terms is Boston is going to have to throw another person to make the deal work, and they don't have a lot of other cheap assets.
But, the sides are talking. Just like this entire trade deadline, it may be little deals like this rather than the big deals like Allen that get done.