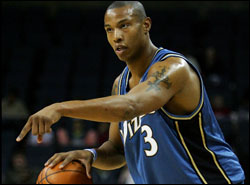 The always-reliable David Aldridge comes through with the goods that Caron Butler's days in Washington are almost certainly numbered.
The reason is money: With some cap relief headed their way after the Gilbert Arenas and Javaris Crittenton suspensions, the Wizards are about $5 million over the luxury tax threshold. If they can send out Butler for an expiring deal, they not only don't have to pay the tax but also they will get a $4.5 million check from the pool of money the tax paying teams had to throw in. That's nearly a $10 million swing. So goodbye Butler. Have a safe flight.
The question is where does he go? Aldridge says Texas.
Butler winding up somewhere in Texas is most likely, with Washington probably deciding between Dallas' and Houston's competing offers before next week's All-Star Game. The Wizards are determined to get a young player back, though, and the Mavericks' only non-geezer is rookie guard Rod Beaubois — while Houston has a young guard like Kyle Lowry and an expiring big man contract in forward Luis Scola to pair with McGrady's $22 million expiring deal.

(Don't discount Portland, either. While much has been made of the Blazers' pursuit of Washington center Brendan Haywood, the Blazers have just as much, if not more, interest in Butler, and are willing to put $3 million in cash toward a deal — which certainly interests the Wizards. But Portland's refusal to put any of its young players other than Martell Webster in any potential deal puts it on the outside looking in.)
Yesterday Mavericks owner Mark Cuban moved Beaubois into the "untouchable" category (along with only Dirk Nowitzki on that roster). If Washington wants a young player or two in this deal, Houston may be the only choice.
Butler's scoring punch added to the hard-nosed team defense played in Houston would rocket them to the top of the "teams we don't want to face in the first round" list in the West.