Our game recaps, or what the city of New Orleans missed because it is still partying.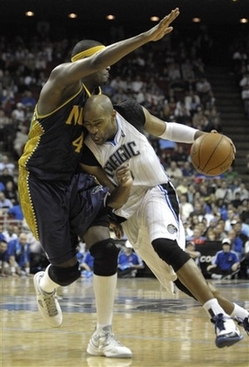 Orlando 123 New Orleans 117 Game of the night because in the third quarter the 2005 NBA Live version of Vince Carter showed up and took over. Gone was settling-for-jumpers Carter, replaced by the-rim-is-scared-of-me Carter. Vince dropped 48 on 70% shooting (6 of 10 from three), most of that in the second half. He hit circus shots with defenders draped on him. This is two good games in a row for Carter — not a full blown trend yet, but if it becomes one the Magic just got a lot more scary.
This was a quality win in what was the worst kind of trap game for the Magic — second night of a back-to-back where the first game was an emotional game against a rival. They came out flat, and credit New Orleans for taking advantage by pushing the pace and getting 70 first half points.
By the way, can't say enough good things about former UCLA Bruin Darren Collison, who has the unenviable task of filling in for Chris Paul. As a West Coaster I'll tell you he didn't look this good at UCLA, in part because he didn't have the offensive freedom. He plays fast but in control, plus he can shoot. You put up 27 with nine assists on the Magic and that defense? You can ball.
I can say enough about the NOLA Mardi Gras uniforms, they burned my retina. However, my wife thought they were cute, and she is a far better judge of fashion than I so no more jokes.
Los Angeles Lakers 101 San Antonio 89 The Lakers are not a better team without Kobe. Just aren't. Same with Bynum, who was also out with a sore hip from the Portland game Saturday. However, without those two in the lineup the Lakers ran the triangle offense through Gasol — and man, it was beautiful. A big man who ca pass makes all the difference in that offense, and the Lakers kicked it out and worked the ball strong to weak with the extra pass to get open looks. Tex Winter was at home smiling.
Pau Gasol controlled the paint — 21 points, 19 boards (8 offensive) and five blocks. Lamar Odom added 16 and 10. The Lakers did everything a little better — shot a little better, got to the line a little more, rebounded better and turned the ball over less. All that adds up. The only question is, can they do all that — will the ball movement still be there — when Kobe does return.
San Antonio still struggles to beat good teams. And play on the road. And win a game that is close. While early in the season it was easy to dismiss that as just another slow Spurs start, the season is past the midway point and nothing has changed. The Spurs players and front office need to be asking themselves some hard questions.
Dallas 127 Golden State 117 The players have changed, but that 2007 playoff match up was not a fluke — the Warriors just give the Mavericks trouble. They did for much of this game, leading by 13 with seven minutes left in the third. But then the Mavericks found their offensive rhythm (Jason Terry with 36), which they live and die by lately, and made the charge back. That said, after the All-Star break Dallas needs to find the defense they had the first couple months of the season if they are serious about contending. That or make big trade.
Monta Ellis had a sprained knee — it wasn't pretty, but he walked off under his own power — and will undergo an MRI Tuesday.