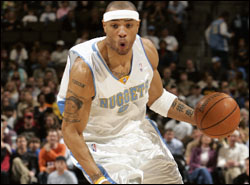 As the trade deadline approaches, there are few players on the block as intriguing as the Kings' Kevin Martin. Martin is a divisive name among NBA fans. His penchant for drawing fouls and hitting three-pointers make him one of the league's most efficient scorers. His ineptitude at the defensive end and abysmal assist ratio make him a hard player to build a team around.
This season, Martin's production dropped off from where it was in previous years. Martin has posted a True Shooting percentage of 60% or better for the last four years, an amazingly high mark for a player who scores as much as Martin does. His True Shooting this season is at 53.1%, which is a huge dropoff.
As the Kings look to rebuild around Rookie of the Year favorite and general juggernaut Tyreke Evans, they have to decide whether or not Martin fits into their long-term plans. As Tom Ziller notes, Martin has a very attractive contract, and could provide a scoring boost to a contender. Dallas is reportedly interested, and it's not hard to see why; Josh Howard has been a major disappointment for Dallas. Howard's True Shooting is currently at a career-low 48.0%, and his PER has dropped to 11.77, which would easily be the worst mark of Howard's career.
The Sacramento Bee reports that any deal involving a Howard-Martin swap would likely have to involve a third team. It's still up in the air whether or not the Kings are willing to jump through hoops to sell one of the league's most efficient young scorers when his value is so low.