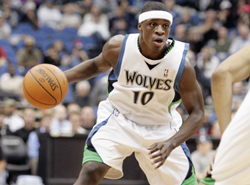 When you're at the bottom of the standings, it's about making progress. And nobody was really noticing that lately the Minnesota Timberwolves had been making progress.
Well, that was until they beat Dallas in Dallas then Memphis at home the next night last weekend. Then people noticed that the Wolves are .500 in their last 10 and are no longer a pushover.
Which is why General Manager David Kahn was insistent Monday that none of the team's core — Al Jefferson, Kevin Love, Jonny Flynn and Corey Brewer — are going anywhere at the trading deadline. He made it clear that the team is not looking to deal Jefferson. At all. He was serious.
Kahn gets that rebuilding is a process, especially since the team committed to Kurt Rambis and the triangle offense. While they have let Flynn break out of it more as the season has gone on, it still remains their core offense, and anyone that has run it will tell you it takes half a season to sort of get used to it. A full season to really grasp it.
The Wolves are getting healthy at the time they are becoming more comfortable with the offense. It's starting to come together. Maybe they do need to shake up the core, but being patient to see how all these pieces can work together over time is the prudent thing to do. There will be trades that can be made this summer or next year.
Panic-induced, quick-fix trades is how you end up with the Knicks roster. Trust us, Minnesota fans, you don't want that.