NBA trade rumors are a dime a dozen this time a year. However, when a high ranking executive from one team, let's say the Suns, goes and scouts a player, let's say Andre Iguodala, that is not just a rumor. ESPN's Marc Stein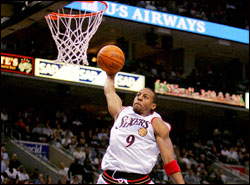 However this deal makes less sense for Philadelphia. If they are trying to shed long-term salary they don't really do that for a couple of summers because Stoudemire is not likely to opt out after this season. He has that right, but he is due $17.7 million next year and from recent comments he clearly has figured out he would not make that much on the open market in this economy. Plus, if Iguodala and Dalembert have not been great fits in Philadelphia, why would Stoudemire suddenly be? He's another great athlete currently in a system that suits him. On top of all of it, the Sixers would be trading away their best defenders for a guy disinterested in that end of the floor.
Still, Sixers brass wants to move Dalembert (have for more than a year now) so if this is the only option out there, they will consider it.