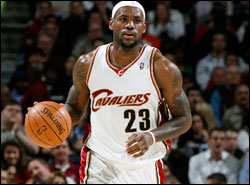 The Association from top to bottom.
1. Cavaliers (41-11) Best record in the NBA and on an 11-game win streak. Going into All-Star weekend they are the team to beat. Didn't we say that last year, too?
2. Nuggets (34-17) They've beaten the Lakers twice, that has to boost Denver's confidence going forward. Although, doing the same thing in the playoffs is another matter.

3. Jazz (31-18) Eight straight wins. Jazz are in the middle of their annual "we're playing like contenders mid-season" stretch.
4. Lakers (39-13) Denver and Utah are hotter right now, and the Lakers have a few issues to resolve (hello Derek Fisher), but who you going to pick when the playoffs start? Exactly.
5. Magic (34-17) The comeback win over Boston means they may be putting it all together post Hedo, finally. If so, watch out.
6. Hawks (32-17) They keep getting overlooked as a contender in the East. Do that at your own peril.
7. Thunder (29-21) OKC is 7-3 in their last 10 games, and Kevin Durant is filling it up. Man is that fun to watch.
8. Suns (31-21) They have won five in a row and are climbing fast. Why do they want to trade Amare Stoudemire again?
9. Spurs (29-20) San Antonio crushes bad teams like the Clippers, but they need to beat some good teams before we buy in.
10. Celtics (32-17) This team needs to get healthy, the All-Star break couldn't come at a better time. But the problems look deeper than that.
11. Mavericks (31-19) They are 5-5 in their last 10, which in the deepest division in basketball will have them out of the lead quick if they can't turn it around.
12. Raptors (28-23) When they play a little defense, like the fourth quarter against the Kings, they become a dangerous team.
13. Bucks (23-26) They have found their rhythm again and have won 7 of the last 10.
14. Blazers (30-23) Any more injuries and they will be pulling guys out of the stands to play.
15. Bobcats (24-25) While the franchise is in flux, Larry Brown has quietly done a great job getting Charlotte to play defense.
16. Rockets (27-23) This team is not going to win a title, but nobody in the West wants them in the first round.
17. Heat (24-27) It's not just that Miami is 3-7 in their last 10, but that the schedule has been pretty soft at the same time.
18. Bulls (24-25) Chicago is 6-4 in its last 10, and if they can put to Thomas situation behind them and get Noah back healthy in a couple weeks, they are playoff bound.
19. Hornets (27-24) Has anyone in New Orleans even thought about the Hornets the last two weeks? They may not for two more after the Super Bowl.
20. Grizzlies (24-26) Hallmark of a young team is thinking you are through a touch stretch, letting your foot off the gas and getting beat by Minnesota.
21. Sixers (19-31) Hey, Allen Iverson is an All-Star. There's your bright spot.
22. Clippers (21-29) New coach Kim Hughes wants to run, but outside Baron Davis who on that team do you want handling the ball on the break?
23. Knicks (19-31) Nate Robinson is back to the bench, Chris Duhon is starting again. That should solve all their problems.
24. Timberwolves (13-38) Don't look now, but Minnesota is 5-5 in their last 10 and beat Memphis the other day. They may be fitting the pieces together.
25. Pacers (18-33) With the loss by the Colts, the fans of Indianapolis can turn to the Pacers to brighten their… maybe not.
26. Kings (16-24) Can Kevin Martin and Tyreke Evans play together well? If not, now is the time to move Martin.
27. Wizards (17-32) If Bull Durham taught us one thing, it's that every once in a while a team needs a rain out. Or a snow out, in this case.
28. Pistons (17-32) Chuck Daly used to get death threats. At least back then the Pistons got noticed.
29. Warriors (13-36) I've given up trying to figure out Don Nelson's rotations. They give me a headache.
30. Nets (4-46) I've spent a lot of time trying to find something to write to pick up the spirits of Nets fans. I've given up.