Like everyone in the NBA, Joakim Noah suffers from plantar fasciitis. But forget that simple rest and anti-inflammatory treatment everyone else gets, Noah went House on us.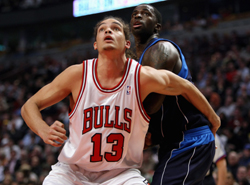 He had blood from his arm injected into his foot to speed the healing. How does that help? I have no idea, you'd have to ask the shaman who came up with this idea. What I do know is that he will now be sidelined for longer. He had hoped to be back after the All-Star break, but it will now be a little longer.
As our friends at Rotoworld remind you fantasy players, this means Brad Miller will continue to start. Bulls fans, that means be ready for more of those elbow jumpers that you love to watch.