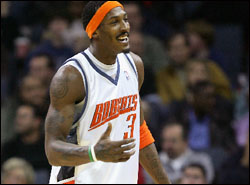 The Bobcats were dogged by pretty much every pundit coming into this season. Widely considered to take a vast step back from their near-playoff-entrance season (despite losing only Emeka Okafor's tallness in return for Tyson Chandler's tallness), the Bobcats started the season in full-blown disaster mode; the offense looked like something your cat vomited up after it dug into that beef stroganoff you left sitting out. Gross. But then things turned and all of a sudden the Cats were winning left and right, rattling off a long home game winning streak and looking very much like a tough playoff out with Stephen Jackson as their new instant offense.
But as Rick Bonnell points out, there's still some lingering issues in Charlotte, brought to light after Darren Collison notched a Bobcats-shaped mark on his bedpost.
Gerald Wallace is both wise and frank. He told me recently the Bobcats aren't so much a collection of good individual defenders as they are a really good team defense. I'd disagree with him somewhat (and I mean there are strong individual defenders), but I see his point: This team doesn't have a Bruce Bowen or a Ron Artest. When they're elite defensively, it's because of how they work together.
Via Rick Bonnell's Inside The NBA blog for the Charlotte Observer
That paragraph speaks volumes on what Larry Brown has accomplished. The Bobcats moreso than any team are dependent upon a team effort to get them into the win column. They're dependent on specific players' specific contributions (Stephen Jackson, score a lot of points! Raymond Felton, be a bizarrely competent combo-guard! Gerald Wallace, run around like a lunatic and do everything on the box score and five things they don't even have names for yet!), but they also work in tandem to get the job accomplished. It's when the sum of those contributions is not able to overcome the gross output of one or two special players on the other squad that the team finds itself in a hole. That's a tough level of effort to maintain for 48 minutes.
Bonnell also notes the growing Tyson Chandler conundrum. Chandler has spent a ton of time on the shelf this season, much like last season, but he's close to returning and (insert cliche about tall basketball players). Meanwhile, the Bobcats best-kept-secret is Nazr Mohammed who's averaging some stunning numbers per 40 minutes. Mohammed has been a huge reason for the Bobcats' success, and having a capable tandem at the center position is something most teams envy, particularly in the East.
If the 'Cats are going to make a move for whatever their missing piece is in pursuit of whatever short-term or long-term goal they have (which no one can really ascertain), the most likely moved piece is D.J. Augustin. Point guards are always at a premium, and Augustin has crawled out of the sophomore slump grave he started in to start the season and is back to "passable." 'Cats should cash in on that chip now before its value drops again.