The Clippers have made a seamless transition to the Kim Hughes era.
At least that's how it looked to Clippers fans Saturday. Just like Mike Dunleavy before him (and Dennis Johnson before him and Alvin Gentry before him), Hughes' Clipper squad got routed by the Spurs 98-81. The fans booed the team off the court at halftime. Not the ideal in his coaching debut. Meet the new boss, same as the old boss…
Except it's not. Things are different for the Clippers with Hughes at the helm. Better remains to be seen, but they are different.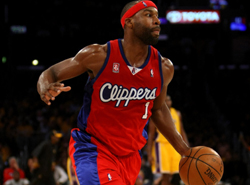 There is a sense of optimism in the locker room. Players like that Hughes wants to get out and run and not have so many set plays. Despite the results after one game of trying to improvise some offense looking ugly (21 turnovers will do that, so will all the missed chip shots).
As any comedian who knows their craft can tell you (so, don't bother ask Dane Cook), improvisation is a practiced skill. The Clippers looked like a team that hadn't improvised in a long time. They had eight turnovers to just four baskets in the first quarter. On one possession, Marcus Camby came out and set the drag screen (high pick and roll early in transition) and Eric Gordon went behind it, left his feet, changed his mind mid-air and tried to hand the ball off to a shocked Camby. Turnover. Baron Davis had seven turnovers in the first half alone.
"It's going to require a lot of instincts out there, it's just going to take us a little time," Davis said afterwards, adding that after half a season of walk-it-up with Dunleavy the team was not in condition right now to run for 48.
Hughes is actually the kind of guy you want to root for — an NBA lifer getting his first chance. Hughes comes off as a players coach — he started in pro player career in the ABA, a rookie on Julius Erving's championship New York Nets team. In his first pregame press conference as head coach he called Chris Kaman "retarded." But in an affectionate way.
He's also honest. Like when asked if he really had the ballhandlers to have a running offense.
"Perhaps not," Hughes said. "That was somewhat exposed tonight."
He doesn't. This team was built by Dunleavy for Dunleavy's slow offense. Still, There were flashes. Midway through the third quarter when Eric Gordon made the steal, hit Davis on the runout, who drew the defense then left a drop bounce pass to Rasual Butler for the dunk.
But there was much more horrific decision making (like Mardy Collins going isolation at the end of the first half rather than feeding Davis or Kaman). If nothing else, Clippers fans should be optimistic because there is plenty of room to improve after game one of the Hughes era.